Amanda: Cozy Shearling Mules for Fall
Fashion Stories Fall/Winter / Publish 4 min read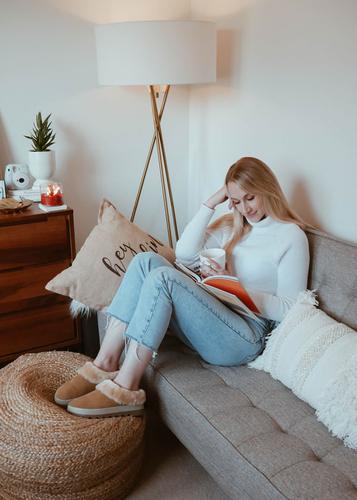 Toronto Marlies broadcaster Amanda knows all about dressing for cold weather from reporting outside in all-weather and ice rinks around Canada.
---
She tested a pair of our Pronya Shearling Mules in their natural habitat – at home, with a cup of tea and a good book!
What's your earliest memory of caring about how you dressed?
"Amanda are you ready to go?!" my mother, Bonnie, would yell up the stairs as I stared hopelessly at my closet after changing my outfit at least 4 times before I landed on what my 'out of time' outfit. Ah those awkward days of high school, I remember them so fondly.
I have always cared about what I wore ever since I was very young. Choosing your outfit is usually one of the first things you get ownership over. My mom is very talented in the sewing room and would often make dresses for me when I was young. I loved going to the fabric store with her to pick out the next pattern for the next dress. She taught me from a young age to present myself to the world with class and elegance. And if all else fails, wear black, tie your hair back, put on a red lip and deal with it.
I love Cougar shoes because you don't have to make sacrifices when it comes to your feet and your style. Too often do you have to choose two of the three when it comes to shoes — style, comfort or practicality. With Cougar shoes you don't have to.
— Amanda
You have $500 to spend on your wardrobe. What do you buy and why?
If I was to build a capsule wardrobe with $500 I would purchase the following:
A pair of black denim and one destroyed boyfriend jean denim, a black belt, a white collar button up, black Cougar booties (likely the Fargo Leather Ankle Boot) and a chunky knit and a simple oversized blazer. All of these pieces are so easy to mix and match plus they can be easily dressed up or down with accessories.
However, if you asked me what investment pieces I would purchase I would have to say an over the knee heeled boot and a long wool trench. Both of these pieces are versatile, sleek and classic. It's important to stay away from trends when it comes to finding fashionable forever items.
You have a time machine. What time and place do you travel to just for the clothes?
Oh baby this is my favorite question. I really try to bring a 70s style into my everyday wardrobe. When it comes to style, I know I was born in the wrong era. Who doesn't love high-waisted pants, blazers, graphic tees, knits and monochromatic jumpsuits?
But if I'm being honest, I would probably travel back to the 90s because fashion was about to go through some serious growing pains and I want to relive the madness.
Related video
Watch: Cougar Shoes - Slip Into Cozy.
What's the most important style item to invest in?
I'm not just saying this because this is a post for Cougar Shoes. But legitimately the most important style item to invest in is shoes. Please be kind to your feet, you put them through so much! Girl look at that step counter on your phone. When you see you reached ten thousand steps your feet should not be aching. You want to wear shoes that make you want to get up and be active.
What trend (that everyone loves) do you hate?
Skinny sunglasses. Is that still a thing? I'm over it.
My first pair of Cougar's were the Ciscoe Knit Sneakers in Shell. I was blown away by how comfortable they were and how many people complimented them."
— Amanda
What's the biggest mistake people make when shopping for clothes?
They pick what they think other people want to see them in. Not what makes them feel good. BIG MISTAKE. I try to avoid other people's opinions when I'm shopping by going alone, when I'm feeling good about myself and typically have my earbuds in with a good playlist going.
Take your time. Don't put pressure on finding something just for the sake of owning something new. Moral of the story, you do you boo-boo.
Check out Amanda's YouTube channel to get tips and insights into the world of broadcasting in her "Be Your Own Boss" series.
Amanda is wearing the Pronya Shearling Mule.
Photos courtesy of Amanda Weldon.