Ana: Fashionista Mexicana
Fashion Stories Fall/Winter / Publish 1 min read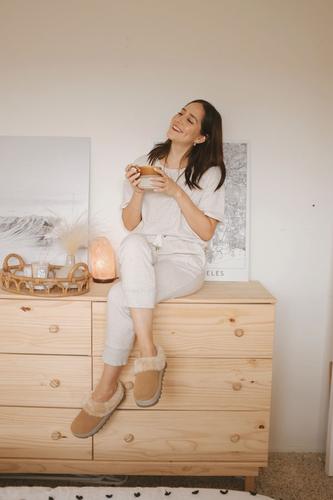 A Mexicana in Los Angeles, Ana is a full-time social media manager with a fashion side-hustle.
---
Inbetween work and weekly photo shoots, she tested our cozy shearling mules in a rare quiet moment at home.
You have a time machine. What time and place do you travel to just for the clothes?
Definitely the 70s. The first thing I would do would be go to a mall and shop all the cute 70s clothes.
These Pronya Shearling Mules are so incredibly soft, and my feet feel so cozy."
— Ana
What's the biggest fashion mistake you've ever made?
Purchased a full wardrobe of clothes that were "Instagram trendy" but didn't really fit my personal style. I did it only to try to be popular on Instagram by posting all the trends.
What's the most important style item to invest in?
Jewelry and handbags. Both if well taken care of, you can always re-sell in the future. Especially if they are high quality and for the bags if it's a designer bag. But always buy a classic style, never spent a lot of money on treny items.
Related video
Watch: Cougar Shoes - Slip Into Cozy.
What item in your wardrobe do you wear the most?
A good pair of vintage levi's. Jeans are my favorite item of clothing and I think as opposed to what people think, they can be one of the most flattering item of clothing you can wear.
What is the best fashion purchase you've ever made?
There are three. A good expensive pair of vintage Levi's that fit like a glove. My vintage LV bag and a real leather jacket. These are items that will never go out of style and are so versatile.
Just know that they are ways to look chic and enjoy what you're wearing. So with that being said, never taking these shoes off! "
— Ana
For all you aspiring Instagrammers out there, Ana shares how to create high-quality blogger photos on her YouTube channel!
Ana is wearing the Pronya Shearling Mule.
Photos courtesy of Ana Molina.