Cougar Chronicles - Celine Tadrissi
Fashion Stories Guest Editors / Publish 5 min read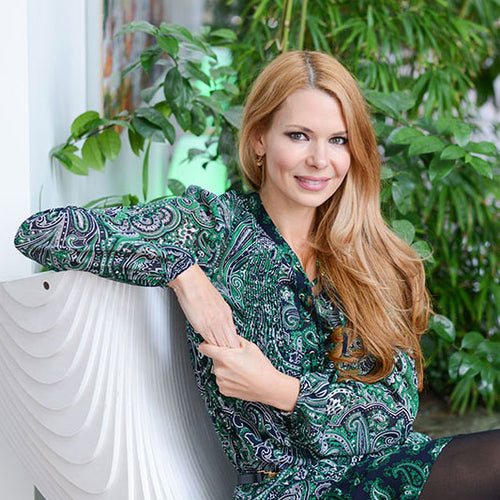 COUGAR CHRONICLES: ISSUE 3 - 2022
Celine Tadrissi
 is a mom to three girls, a 12
th
-generation Canadian (!), a business graduate, entrepreneur and the founder of Céla, the Canadian-made beauty line that caught Oprah's attention. Of course, as a Canadian, family-run business, we were drawn to Celine and her homegrown story. Guest Editor 
Christy Wright
 interviews the beauty innovator about the role of family in business, Mother's Day plans and what Cougars she and her girls are wearing this spring…
---
There are three generations working here at Cougar and you are 12th-generation Canadian! How does that influence your business?
My intention is to provide products that stand the test of time. I was pregnant with my first daughter when we opened the first Hammam Spa location in 2005, and my girls have been a part of the growth and development ever since. I always joke that my companies are my 4th child because they're a part of our family and we hold them to the same standards. So, being a multi-generational Canadian has a significant impact on the operation and ethos of my brands, which are an extension of myself, my life and my educational experiences growing up in Canada.

Given that, what do you love most about Cougar?
I respect and am proud to wear this brand based on its Canadian history and success at being an innovator in such a competitive industry. On top of that, I love my new Cougar sandals because they're comfortable and practical but also stylish.

The Jasmine Leather Sandal in Oyster is a favourite of Celine's. 

What made you want to launch your own skincare?
I've been into beauty and skincare for as long as I can remember, but never thought of it as a possible industry to work in (I studied business and economics at U of T). After operating my spa for several years, I was frustrated with the lack of specific products for some of our treatments and with import issues. I wanted to use Canadian ingredients so started researching natural ingredients in Canada. Without an intention to create a line, I began ordering bulk raw ingredients for professional use in the spa. Over a few years, I developed some specific blends that worked amazingly and decided to take the overwhelming plunge into developing Céla skincare.
I'm in love with the Céla line (and so is Oprah!). Tell us about the "seed to skin" name and the best-selling Seed to Skin Scrub.
"Seed to Skin" was actually a phrase I had posted at my desk during the period of product development and formulations for Céla. The inspiration for the scrub was to create an effective full body treatment that renews the skin, while moisturizing. The physical exfoliation is a combination of sugar and finely milled seeds in a packed ingredient list of Canadian botanicals, oils, shea butter and coconut oil.

Céla - Seed to Skin Scrub

Céla - Seed To Skin Scrub
 
I'm addicted to the Black Gold Coffee Scrub. What's in this heavenly stuff?
I take coffee seriously! The physical exfoliation comes from a combination of ground coffee and raw sugar. This scrub is also packed with moisturizing ingredients including Abyssinian oil and rich cupuacu butter.
I know your daughters love Céla, but what's their take on fashion?
They each have a unique style and sense of fashion, but there's definitely an overlap, especially in the last year; they grew so much that now we can all share clothes and shoes. My husband has his own fashion brand (Dust of Gods) and the girls have been to runway shoes and all of them can sew. All of us love to mix a more formal outfit with casual, comfortable shoes. That's why Cougar works so well for us – we can wear them when we're active and also when we get dressed up to go out for dinner (we love food!).

Celine perched with daughters Bella 15 above and Colette 11, below.
 
What do you think of your daughters' Cougar picks?
They're great! I love the rich neutral shades, like Cognac, and how fresh the colours feel – they really go with everything. Plus, they're water-resistant and stain-repellent so they'll look great as the girls wear them throughout this season. Again, the amazing bonus for me is that we are now all the same shoe size!

Pepa Suede Sandal in Cognac is Colette's pick!

Bella's pick: she loves the Prato Patent Sandal in Black!


Caprice (not pictured) chose the Jasmine Leather Sandal in White.
 
It's pretty cool that Cougar can offer both moms and daughters style options. What do you think?
I absolutely love it! The experience of finding shoes like Cougar, that are practical, but classic and stylish, is amazing.
Bella, Mom (Celine) and Colette hanging out in their Cougars.

Mother's Day is right around the corner. How will you spend it and is there anything you'd like to say to all the moms out there?
Yes! This Mother's Day is an extra special one for me because it's also my youngest daughter's birthday. She was born on Mother's Day 11 years ago and this is the first time that her birthday falls on Mother's Day again. My advice for all the moms out there is to enjoy the simple moments and let go of all of the worry and guilt that often comes with being a mom.
Can you share any summer skincare tips?
My advice applies year-round: regular exfoliation and moisturizing are fundamental, and regular sun protection is a must, especially for chest, shoulders and face. Wear your sunscreen!
Along with your sunscreen, how will you wear your Cougars this season?
Lounging on days off with shorts or a cute sweatsuit and at work with a pantsuit or summer dress.