Cougar Chronicles Doreen Winkler
Fashion Stories Guest Editors / Publish 5 min read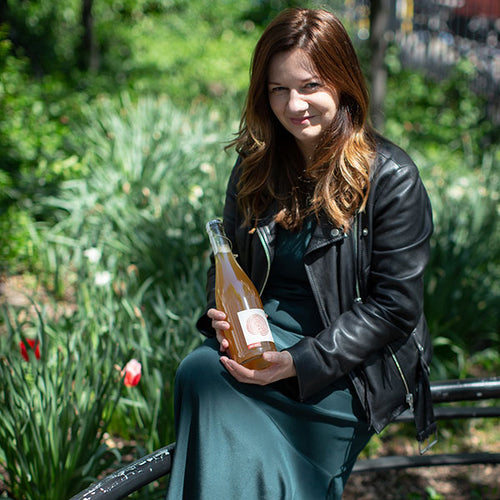 Guest editor Christy Wright talks with Doreen Winkler: Natural Wine Sommelier about wine and boots – the perfect pairing!
---
Doreen Winkler is not only a sommelier, she's the founder of Orange Glou, a New York-based wine subscription service that focuses on natural wines. She's also a big fan of Cougar Shoes. That's why we wanted her to give us the skinny on orange wines (her passion) and share some tips for holiday pours. Forbes named Doreen one of "America's Top Sommeliers" and guest editor Christy Wright finds out why (wait till you discover her crowd-pleasing wine pick), plus reveals what this busy somm wears to keep her feet stylish and happy in the city.
With the holidays around the corner, can you give a crash course on wines?
There are amazing wines to enjoy from all around the world and across grape varietals so there are plenty of options. It's all about finding winemakers you can trust and then building your own feel for pairings for your table. Remember, there's no right or wrong; no more rules like red wine with red meat, white wine with fish, so go with your feelings. I like finding small producers who use indigenous grapes, that is grapes that grow where the wine is made – no imported grape juices from across the world. I focus on finding these small producer wines for my customers. There are many out there too, like Meinklang, Donkey and Goat, Christian Binner and Keltis.
Doreen Winkler - Founder of Orange Glou in her New York Wine Store.
You focus specifically on "natural wines." Can you explain what they are?
Natural wines allow the unique properties of the grapes to shine through without chemical modification. Natural wine producers don't use any chemicals in the growing, the harvesting or in the wine production. They handpick only the ripe grapes, use only indigenous yeasts and add very little to no sulfites. Natural wines don't have any other additives and aren't filtered. This approach allows for a rich range of colors and tastes that may be new for you – once you taste them, you will be hooked!
What about the new "orange" wines?
Orange, or "skin contact," wines are made from white grapes that stay in contact with the grape skins for anywhere from several hours to many months – they get some color from this contact with the skins, thus the term "orange." And they're not technically new – I've been enchanted with them for years, drinking them myself and adding them to wine lists for bars and restaurants I work with. The contact with the skin allows orange wines to have an incredibly broad range of flavor profiles, from floral to herbaceous, to tropical to earthy, and on and on.
Orange wine being poured at an Orange Glou event.
Speaking of, you chose the Firenze. What will you "pair" this selection with?
I love these rain boots! I'll be wearing them with washed-out jeans and my favorite bomber jacket – a perfect pairing.
Meet Rouge. Doreen's cuddly but strong and stubborn Chow Chow Border Collie mix. Rouge approved.
Firenze Chelsea Rain Boot - Oyster
Firenze Chelsea Rain Boot - Black All Over
If you had to choose a wine to represent the Firenze, what would it be?
The Firenze reminds me of the Vina Herzánovi Amphora wine, which is quite edgy like the shoes.
Firenze Chelsea Rain Boot
For those not ready for edgy wines, is there a more crowd-pleasing pour?
Pét-Nat – or Pétillant Naturel – is always a crowd-pleaser and also a great gateway to orange wines. They're naturally sparkling wines that are generally low in alcohol and easy to drink. They are refreshing and are among the most affordable of sparkling wines. 
A common mistake people make when buying wine?
Sadly, the most common mistake is selecting wine based on the how the label looks. Wine producers know this and often invest more in the label than in making quality wines! I'm excited to teach people all about what's inside the bottle.
Can you share some tips on how to pick wine for the holidays?
For charcuterie, you want something with high acid to cut through the heavier meats and also some earthier flavours for balance. It should also have texture to stand up to the food. For a turkey dinner, think about a classic Georgian orange wine with a lot of complexity and fruit. Pairings are more about finding a specific flavour profile, rather than a particular grape, so don't be afraid to ask in store for help or suggestions.
As well as the Firenze, you chose THE PILLOW BOOT® in original Butternut. It's a bit of an icon – is there a wine you would consider "iconic"?
The Gravner Ribolla Gialla from Venecia Guilia, who is a truly iconic winemaker and was the first to bring the orange wine tradition from Georgia, where it originated, to the rest of the world.
THE PILLOW BOOT® - Butternut in good company!
THE PILLOW BOOT® - Butternut
At Cougar, we curate our collections to balance traditional favourites with directional new styles. How do you curate your wine offerings?
My collections are also a mash-up. I like to include wines from established, iconic producers, along with exciting new wines from producers who are really pushing the envelope and trying things no one has ever done before.
Why did you choose the V-Five in Black and how will you wear it?
I chose them because they are amazingly warm and comfortable, perfect for slushy New York winters. I'll wear them with my floor-length Canada Goose winter coat.
V-Five Leather Shearling Boot - Black
If you could only gift one type of wine and one pair of Cougars this holiday, which would you chose and why?
I'd gift orange wine because it's naturally delicious and versatile enough for every holiday table. I'd gift THE PILLOW BOOT® in original Butternut because it's both edgy and super easy to wear. I also love how THE PILLOW BOOT® is both comfortable and stylish!
THE PILLOW BOOT® - Butternut
THE PILLOW BOOT® (Cask)
THE PILLOW BOOT® - Black