Cougar Chronicles – Georgina Pazcoguin
Fashion Stories Guest Editors / Publish 5 min read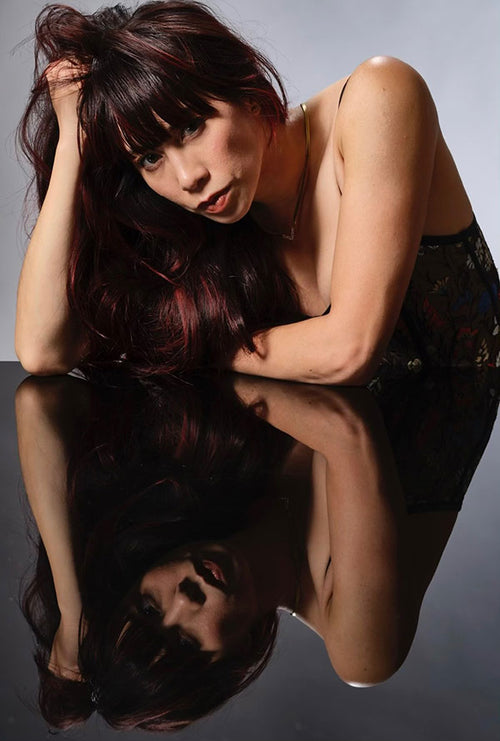 Guest editor Christy Wright talks with the "Rogue Ballerina" Georgina Pazcoguin about ballet, boots and her new book!
---
Not many ballerinas are known for their outspoken opinions and advocacy roles, but, then, not many ballerinas are like Georgina Pazcoguin. The self-described "Rogue Ballerina" is New York City Ballet's first Asian American female soloist and a natural-born rebel. In fact, she's just written a book, Swan Dive: The Making of a Rogue Ballerina, that is a multicultural look at life behind the theatre curtain. 
---
Why are you "The Rogue Ballerina?"
I use the moniker, "The Rogue Ballerina," because I'm not your typical ballerina. With the word "rogue," I'm flipping the connotation of ballerina on its head. I'm saying, "It's great to be different, to take the attributes that people think make you different in a bad way and to spin them into gold, making you uniquely singular." Not only am I a multicultural woman of Asian /Italian heritage, I'm very outspoken and tend to shatter ideas of what people think a ballerina should be.
You're also New York City Ballet's first Asian (Filipina) American ever to be promoted to an upper tier. How does that make you feel?
Honestly, it doesn't make me feel any more or less special. If anything, it says something about the institution of ballet and how far we need to go to make it normal to have people of colour leading the way as ballerinas and cavaliers on stage.
"Rogue Ballerina" Georgina Pazcoguin - Photo credit: Matt Karas
Given that your feet are one of your biggest assets, how do you pamper them?
Oh, what a question! I love and appreciate well-designed, balanced shoes. I have to take care of my entire body, not just my feet, but I do love a heel and will not shy away from a fashion-icon moment. I just make sure that the make and quality of what I wear matches the quality of my training.
As a New Yorker (and dog mom), you're often commuting, walking and even hiking. How does that influence your footwear choices?
Practicality matters to a certain extent. I need a waterproof shoe, like a Cougar, in the mornings as the grass is still wet. And I prefer a supportive shoe for long walks. But honestly, mid-season, when my calves are so tight anyway, that's when I'll just wear a heel to mimic my normal stance in pointe shoes. Call me a method actress.
We love that you chose the Firenze in black with olive detailing. Why this combo over others?
Because I love pops of the unexpected! I always need a little flair, a little rebel reminder that uniqueness is a special, not a detrimental, quality to life.
Georgina Pazcoguin wearing the black Firenze Chelsea Rain Boots
Firenze Chelsea Rain Boot - Black All Over
As a big fan of fashion, what was it like wearing Stella McCartney-designed costumes for the Paul McCartney-scored ballet, "Ocean Kingdom?"
Oh! I LOVED my costume for Ocean's Kingdom. Deep-V, beautiful blue and a freaking cape! Yes, ma'am! I can work with all this. Also, I loved being the evil character, dressed for days.
Given your stylish edge, how will you wear THE PILLOW BOOT® in black patent?
I have so much fun styling all my Cougar shoes with current closet. I love wearing THE PILLOW BOOT® in black patent with my dark-green velvet jumpsuit - the mix of textures is great - and, when I head out, I'll pair them with a fabulous camel-colored coat. I'm feeling black and tan moments these days. 
How will you style the Duffy in olive?
I think the Duffy has become my go-to theater shoe. The second I put them on, I felt like they would be the perfect way to keep my feet and ankles warm between rehearsals and running back and forth across Lincoln Center Plaza. In addition to providing support and relief for tired feet, they also provide a little spice and splash of color in true Rogue Ballerina form.
Georgina Pazcoguin wearing the Duffy Suede Winter Sneaker in Olive
Duffy Suede Winter Sneaker - Cocoa
You chose the Pronya slipper in camel. How will you wear them?
I'll wear them at the theatre travelling between rehearsal studios and as my go-to shoe for matcha tea pick-ups and short walks with my co-pilot Jett during my performance season at Lincoln Center.
Georgina Pazcoguin wearing the Pronya Shearling Mule in Camel
Pronya Shearling Mule - Camel
Favourite colour in Cougar's Fall/Winter Collection?
I am loving the Olive and Russet.
"Swan Dive," your first book, launched in July. What can readers expect?
An honest and funny account of my life behind the curtain as a multicultural woman in the very Eurocentric world of ballet. You can expect a wild ride, including play-by-plays of memorable performances and falls, aka Swan Dives.  It's an entertaining look into my constant balancing act between the high brow and low brow moments of my life as the Rogue Ballerina.
Best thing about being a ballerina?
There are too many to mention but the discipline and determination I've acquired through training from a very young age has proven useful in all aspects of my life. And travelling on someone else's dime honestly can't be beat. I'm very much looking forward to sharing my gifts again with an audience.
Proudest moment?
I am super proud to represent multicultural woman and be a ballerina on a daily basis. I'll be thrilled to return to the stage following this 18-month pandemic hiatus. I'm immensely proud of grabbing hold of my truth and sharing it in my memoir, Swan Dive: The Making of a Rogue Ballerina, on sale now in the US, Canada and the UK.
What's next for you?
I'm excited to continue telling stories. I'm currently dancing in New York City Ballet's Nutcracker through January 2, and making a world premiere of a reimagined lost Baroque work, "Ballet des Porcelaines," at the Metropolitan Museum this December. Alongside an all-Asian American Creative team, I'll debut a new AAPI (Asian American Pacific Islander) Princess for dance fans, making this work very special for me. I'll be heading to the UK to promote Swan Dive: The Making of a Rogue Ballerina across the pond, and I'm thrilled to seek out new adventure and opportunity there. I feel like now is the time for me to truly fly.