Cougar Chronicles - Kathy Lee, Founder of Autumn Cashmere.
Fashion Stories Guest Editors / Publish 6 min read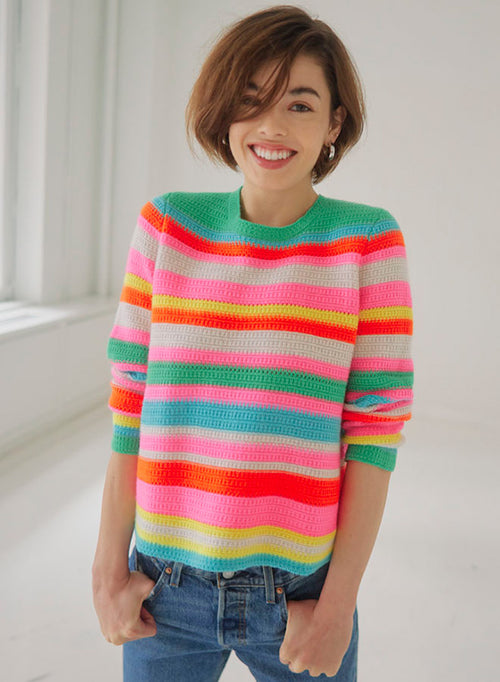 COUGAR CHRONICLES: ISSUE 6 - 2022
---
Cougar Chronicles Kathy Lee, Founder of Autumn Cashmere.
Kathy Lee has upended the notion of cashmere as old-fashioned or something reserved solely for special-occasions. With Autumn Cashmere, the brand she launched in 1995, she's put a fresh, contemporary and fashion-forward spin on this traditional fibre – even Vogue is a fan! Guest editor Christy Wright chats with Kathy about how she has morphed cashmere into cool and why it's a perfect pairing for Cougar…
---
Cashmere is synonymous with luxury, but you've also made it super cool – was that intentional? It was very intentional!
When I founded the brand 27 years ago, cashmere was so expensive and it only came in basic, classic styles that weren't considered very fashionable. When starting Autumn Cashmere, I wanted to bring cashmere to a contemporary market with more colours and shapes. I feel like my team and I have created something more exciting than the traditional cashmere of yesteryear and, in a way, this has helped make it more accessible.
What else sets Autumn Cashmere apart?
Great colors and trendy styles! We want our customers to feel fun and sexy while wearing our knits. We do classic silhouettes extremely well and experiment with novelty yarns from Italy for our more directional pieces. For us, it's quality over everything. We have our own factory in Shanghai, where we source the best cashmere in China. We ensure our sweaters are made with the highest quality cashmere and master craftsmanship.
What makes cashmere a great holiday gift?
Because of cashmere's luxurious reputation, giving it as a gift will make someone feel loved and appreciated. It is the softest, warmest, most breathable fibre. Knowing that someone went above and beyond to get you the highest quality gift can make you feel warm and fuzzy inside and cashmere turns a normal scarf into an amazing thoughtful piece that was selected for you and you alone.
@autumncashmere
 Founder Kathy Lee getting holiday ready, wearing the Stella Leather Boot in Black
How would you shop Autumn Cashmere and Cougar?Is there a perfect gift for a sister, daughter, mom or friend?
Shopping Autumn Cashmere and Cougar together is so easy! Much like Autumn Cashmere, Cougar does the classic silhouettes extremely well, while also being fun and experimental with shapes and colours. Cougar isn't afraid to have fun and I love that! But if your friends are anything like mine, they may not be as colourful and unafraid as I am! For those who prefer a more subdued, simple look, I would pair our fabulous Sunburst Halter in Black with an all-black Shani Boot. You do not need much more to feel warm and luxurious this winter season.

Autumn Cashmere Sunbrust Halter in Black
What cashmere will you wear for the holidays?
Our Holiday/Resort '22 Collection is full of so many amazing pieces. I would say the Baby Cardigan Jewel Swirl. It's the perfect piece to pair with light-wash jeans. It creates a casual fashionista look that's easy to wear anywhere: to an office holiday party; to a tree lighting ceremony; or even just over to your friend's house to bake cookies! For more formal holiday events, I can see myself wearing our Jewel Double Crew with a white skirt or white slacks, a bedazzled headband and a simple pair of white pumps to gleam with opulence.
Autumn Cashmere Baby Cardigan Jewel Swirl

Autumn Cashmere Jewel Double Crew
Love that you chose the Cougar Wink Boot in Leopard.
Truthfully, leopard is my favorite print, so this boot is such a joy! I think it's actually a classic pattern: effortlessly sexy, cool and fun. I'm thinking about bringing Wink with me on all my ski trips this winter. I'll pair it with any number of our sweaters that feature a fun, colorful, complementary pattern. It's a great look for heading outside or just enjoying some hot cocoa by the lodge fireplace.

Wink Nylon Waterproof Winter Boot with PrimaLoft® in Leopard
Your Cougar Stella Boot in Black is more classic.
Yes, I'll play that up. I'm a lady who loves color, as evidenced by my company. This boot is so beautiful I will let it be the anchor for whatever outfit I choose. I'll probably end up pairing it with one of our more flamboyant pieces like the Structured Stitch Mixed Crew. Such a colorful and playful sweater needs a really quality partner to help the look stay grounded so it doesn't fly off the handle, and the elegant Stella Boot will do just that. This stylish mix is perfect for a day at the office, running errands around the city or for travel days, which I know we're all gearing up for as the holidays approach.
Autumn Cashmere Structured Stitch Mixed Crew
The Cougar Dasha is the ultimate winter sneaker. You chose it in Cocoa. How will you wear it?
Definitely with color. I can already see myself biking around Jackson Hole on vacation this winter rocking my Dashas. I'll style it with our Fairisle Yoke Crew while exploring the bike paths or the downtown's shopping offerings. After wearing these sneakers, I know they're extremely comfortable, while also being perfect for any weather thanks to the athletic, chunky sole. I can't wait to take them out in the snow!

Autumn Cashmere Fairisle Yoke Crew
If someone were to invest in just one cashmere item, what should it be? Truthfully, there's nothing that's more of a staple than a cashmere sweater. The sheer luxurious quality of the fibre makes it a favorite piece to wear, and Autumn Cashmere's quality ensures that it will last for years and years.
Tell us about your many devoted Autumn Cashmere fans.
We're truly so lucky and thankful for our fans and we have so many after being in business for 27 years. There are people who have been around since day one. It's the best feeling to hear from them and learn about how wearing Autumn Cashmere makes them feel, inside and out. They tell us it makes them feel warm and cozy but most importantly, it makes them feel luxurious, trendy, and, even more importantly, beautiful. That's all I could ask for. Making all the women who wear our clothes feel good is all we want.
All sweater photos supplied by @autumncashmere