Hats Off to North of Alpine!
Fashion Stories Guest Editors / Publish 7 min read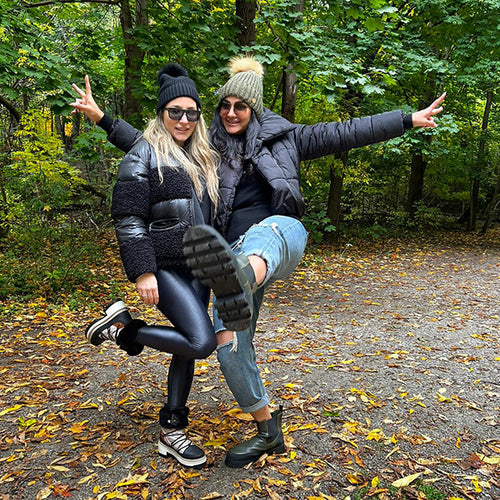 COUGAR CHRONICLES: ISSUE 5 - 2022
---
Meet Belinda Zissopoulos and Mehreen Irshad, two Canadian moms who founded a game-changer brand that's revolutionized the winter hat. With North of Alpine, this entrepreneurial design duo has created the perfect cold-weather hat – think luxurious fabrications, gorgeous pompoms and on-trend styles that are warm and cozy and, wait for it, all at wallet-friendly price points! Guest editor Christy Wright interviews Belinda and Mehreen who share their lightbulb moment, their Cougar picks and why size matters when it comes to pompoms…
---
Why hats?
Hats are a staple for our cold winters, plus they're handy for hiding dirty hair and greys! We were always on the hunt for a well-priced, well-made winter hat and had a very challenging time finding one. Most fashionable hats are made of acrylic, a synthetic material that doesn't breathe well and leaves your head sweaty. When we found stylish hats made of wool, they were often beyond our budget.
And that inspired North of Alpine?
Yes. After years of searching, we still couldn't find a hat to meet our needs: stylish; made of natural wool with a full pompom; and at a great price point. So, we decided to stop hunting and develop the perfect hat ourselves. Our journey to create this customized product ourselves is what makes a North of Alpine hat a standout accessory. We created our hat with the highest standards to match the standards of every Canadian wanting a go-to hat for winter.
Like Cougar, North of Alpine melds functionality with fashion.
We do. We carefully design our hats to be flattering and fashion-forward, choosing colours, shapes and patterns that match the latest runway looks. We believe a winter hat must be warm first and foremost, yet chic and classic at the same time.
Tell us about what you call, "the big, luscious pompom" feature – we love it!
The pompom is an essential detail when creating a great-looking hat. A small pompom can make a hat look inexpensive and an oversized one can look silly.
We've chosen the perfectly sized pompom, guaranteed to be full and luscious, and we believe it makes our hats look elegant and expensive. We also offer genuine and faux styles and, we must say, the faux pompom looks so good we often can't tell it apart from the genuine one! They're also detachable so you can change your pompom to match your winter wear, and it's helpful when washing your hat.
That's pretty cool. And what about the materials?
We use the most luxurious blend of wool, cashmere and soft fibres. Wool is natural and breathable, which helps regulate your body temperature and keep you warm without getting sweaty. Our exclusive fabric blend is soft, not itchy, so you can wear your hat comfortably all day. We never compromise on quality and only work with the most exceptional materials.
Ok, now on to your Cougars… Belinda, why did you choose the Black-Cream Marlow and what hat will you pair it with?
I love Marlow! There are a few different colours in them, which means I can match them with my hats and jackets to create exciting new looks. They're perfect for winter walks since they're nice and chunky with a good grip on the bottom, so I'll feel safe and sturdy. They're also attention-grabbing and, at the same time, warm and comfortable. I'll pair them with our Vail Noir with black pompom. It's a classic black wool-and-cashmere toque, knit into a waffle design. It's so easy to wear and looks cool with everything.

North of Alpine Vail Noir Hat with Black Pompom
Mehreen, tell us about your Firenze in Taupe pick and how you will style it.
The Firenze style is really on point this season and I love the colour – the taupe is soft and pairs well with greys, blacks and whites. I love wearing Firenze with a long, sleek winter coat. It's a boot that also transitions from a restaurant to running around with the kids to wearing a sweater-dress at the office. I'll style them with our Light-Grey Après with a white pompom. The Après is our best-selling hat for a reason – it looks great with every outfit and is knit into a timeless, elegant herringbone design.

Firenze Chelsea Rain Boot in Taupe
What hat and Cougar Boot would you recommend for the fashionista?
Last year, we introduced the Colorado, a beautiful chunky knit hat in the most stunning colours. It's very fashion-forward and would look fabulous with the Cougar Swinton boot. That chunky look is trending this season.

North of Alpine Colorado Hat in Chocolate


Swinton Leather Waterproof Boot in Black-Gum

North of Alpine Colorado Hat in Cognac

Swinton Patent Waterproof Boot in Black
How about a hat for just running errands?
Our number-one best-seller year after year is the Après. The wool-blend is soft and luxurious, with neutral colours that pair well with any outfit. It's a classic style.
The Après also transitions seamlessly from day to night. This hat works with everything from workout leggings and the Cougar Ramp Winter Sneaker to black faux-leather pants and the Stella Leather Boot with a tweed blazer.

North of Alpine Après Hat in Black

Stella Leather Waterproof Boot with PrimaLoft® in Black

North of Alpine Après Hat in Caramel

Stella Leather Waterproof Boot with PrimaLoft® in Caramel

North of Alpine Après Hat in Pink

Ramp Nylon Waterproof Sneaker in Grey

North of Alpine Après Hat in Snow White
Mehreen, tell us why you love the Shani in Olive Green.
Shani is perfectly on trend. It has the combat-boot look, with a touch of softness. It's a great boot for all seasons actually. I've paired it with our newest hat in our collection, The Rockies, in Army Green. It's a chunky hat that fits well and is very trendy. This whole look makes me feel stylish, yet warm and comfy.

Shani Leather Waterproof Boot with PrimaLoft® in Olive

Marlow Leather and Nylon Mid Boot with PrimaLoft® in Black/Cream and Shani Leather Waterproof Boot with PrimaLoft® in Olive

The Shani Leather Waterproof Boot with PrimaLoft® in Cream styled by North of Alpine
Belinda, what do you love about the V-Five in Oak?
I love a good shearling boot, especially when I get off the slopes and need to warm my feet quickly. The Cougar V-Five provides warmth, comfort and style. This boot has a great little platform and is a little chunky. I'll love wearing it with tights to make any outfit look cool. I've paired it with my current love, The Colorado, in Cognac. Oh, this hat just makes me melt! Soft, chunky wool and cashmere knit in a beautiful soft brown with gold specks. It's stunning.

V-Five Suede Shearling Waterproof Winter Boot in Oak

Firenze Chelsea Rain Boot in Taupe and V-Five Suede Shearling Waterproof Winter Boot in Oak
Speaking of styling things for winter, you've both said you're not "cold people," yet you've created a cold-weather staple.
Haha – yes! We're warm-hearted people who catch a chill quickly. We dislike feeling the freezing-cold temperatures of our long Canadian winters. We created our hats to provide a winter accessory people love and to make them feel cheerful on grey, gloomy days. We hope they slip on their North of Alpine hat and instantly feel stylish, confident and cozy. Ultimately, we want people to look in the mirror and smile – making their day a little bit brighter and their spirit warmer during the chilly months.

Keep warm and cozy with this look styled by North of Alpine featuring THE PILLOW BOOT ® in Black Patent
Who is the North of Alpine customer?
Someone who appreciates quality, comfort and style.  
What do you think the North of Alpine and Cougar customers have in common?
They are people who have an excellent eye for style and understand quality – values both of our companies strive to achieve. They know what's fashionable while, at the same time, demand options that are comfortable and ready to wear.