Design Talk
Fashion Stories Spring / Summer / Publish 2 min read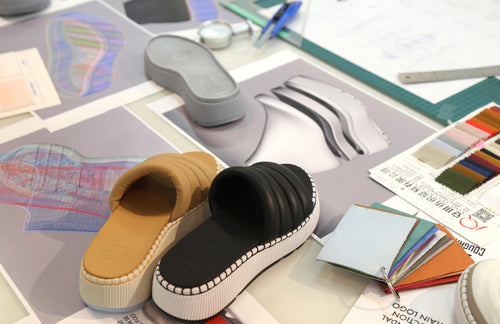 Given the resounding initial response to LUXMOTION, we interviewed our very own Cougar Technical Designer, Austin Sedlbauer, for all the deets on what inspired LUXMOTION, what sets it apart and what's next…
---
What is COUGAR LUXMOTION?
We've always cared about fit and finish but wanted to go further. LUXMOTION is a new technology initiative that addresses comfort at a higher level by layering premium materials that enhance the product and user experience.
We aim to stay on top of new footwear technology and LUXMOTION's materials and technical aspects ensure that they don't just fit well and look great, they're also noticeably more comfortable.
And what about the fun part of LUXMOTION, the design?
The design is where it all begins!
With LUXMOTION, we've incorporated a new comfort without negatively impacting the final aesthetic. We refine our fashion-inspired designs first and then adapt the engineering of the design so we can confidently put the LUXMOTION label on it.
Sven might be the most fashion-forward LUXMOTION style.
Yes, Sven pushes the Comfort Technology aspect. We knew we wanted to make a clog, but we didn't want it to be typical.
There are lots of clogs on the market so we wanted something that would really stand out. Sven is an elevated look with premium and non-conventional materials. And, when you get it on your feet, the cushy LUXMOTION speaks for itself.
Sayah is on fashion point too – the ribbed sole is fabulous.
We noticed the ribbed aesthetic emerging in fashion but wanted to take our own fresh approach to it.
From the premium materials to the small details, such as the whip-stitch applied by hand, every aspect was considered carefully.
Sayah also had to be waterproof, so we ended up exploring new membrane technologies typically reserved for premium outdoor equipment. This allowed us to "hide" the performance within our fashion-forward aesthetic.
What's next for LUXMOTION?
We're always thinking about what's next!
LUXMOTION is a mindset. It's an evolving standard applied to new products. LUXMOTION started with shoes and sandals, but boots are a big part of who we are as a company, and what you're seeing now is just the beginning!